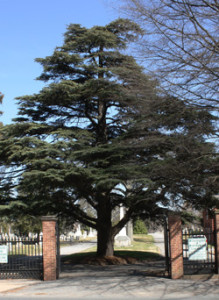 Founded in 1843 by Sam Wollaston, who sought to build one of Delaware's first non-sectarian cemeteries, we remain one of the state's oldest, most historic and active burial grounds. All are welcome here regardless of religious affiliation or non-affiliation. Ours is a place of peace. We have many available gravesites amid 25 meticulously maintained acres of majestic grounds featuring an elegant entrance, beautiful views and elevation changes; and gently sweeping side roads named for trees and historic Americans.
President's Message
Welcome. And thank you for visiting one of the nation's oldest historical landscapes that still remains a fully functioning place of burial. At Wilmington & Brandywine Cemetery, we are dedicated to helping families in their times of need, offering guidance, care giving, burial, mausoleum and cremation internment services, and also helping them to rediscover their heritage and honor. We are foremost, here to serve you and your family. Our commitment to this is eternal.
Whether you seek a final resting place for yourself, a loved one or a valued friend or relative, Wilmington & Brandywine Cemetery offers everlasting peace, beauty and solace. We are here to help you with whatever you need — plot planning or purchasing, arranging a burial, family research, locating a loved one or long lost friend who may be interred here — however we may help. Thank you for the opportunity to serve you, your family legacy, and the loving memories of those who have passed on.
Newrest Funeral traditional cremation assistance
Sincerely,
Richard C. Porter, III
President